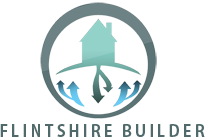 EMAIL US
​quirkspm@yahoo.co.uk
CALL US NOW
01244638219 or 07719535523
Upvc Roofline, Fascia's & Soffits Flintshire Builder
Flintshire Builder offers a complete range of PVCu Roofline products including guttering & drainpipes, cladding, fascias, soffits & bargeboards. PVCu simply wipes clean with a cloth, meaning that it stays beautiful for years.
Your roofline is open to daily attack throughout the year – snow, rain, wind and even blistering summer sun.
Maintaining your existing woodwork is not only time consuming, it costs money too. Rotting roofline can really let your property down. It can also cause structural damage, leading to woodworm and could encourage vermin (squirrels, birds, you name it). So isn't it time you considered replacing your old roofline with quality, weather-resistant, long-lasting PVC-U that needs neither painting nor repairing, no matter what the weather?
Replacing your Fascia's, Soffits, Roofline and flat roofs adds value to your Property and is a permanent cure designed to last 25 – 35 years.
Benefits of PVCu Roofline
Our colour fast PVCu roofline products are totally low maintenance; they wipe clean, and never need painting.
Added advantages include hidden ventilation, which allows fascias and soffits, cladding and bargeboards and guttering and downpipes. to breathe and prevents damp and condensation in you loft or roof space.
Our professional installation includes replacing rotten rafter feet, renewing all cement on gable end edges, and replacing rotten felt up to the first tiling batten.
The choice of colours and styles is vast and include our new wood grain effect to complement your windows and doors.